Legacy-Fire Pit Insert-FREE DELIVERY!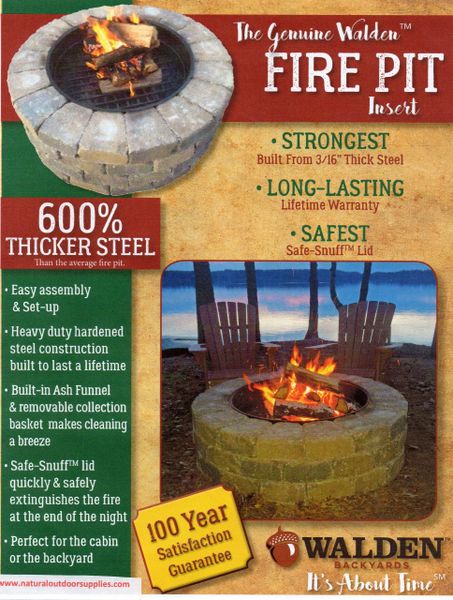 Legacy-Fire Pit Insert-FREE DELIVERY!
OUTSTANDING QUALITY
Thick, 1/4'' seamless steel fire ring and unbeatable design
We deliberately overbuilt this product for you. You could stack up three American quarters and they still wouldn't be as thick as the steel walls of this incomparable fire ring. From the beefy grate to the rustproof coating, this set is made to last not just years, but generations.

EASE-OF-USE
Easy fire starting, building, snuffing and cleaning
The unique design of the Walden Legacy makes it the easiest way to have a real wood fire - any time you want one. The engineered air flow, ash-catching basin, hinged fire grate for easy cleaning and the custom snuffer lid put you at ease and in total control of the fire.

SAFETY
Yes, you're in control of the fire, from start to finish
Our engineered 'closed fire system' keeps the fire just where you want it. When you've decided it's time to go in, even if the fire is still going strong, just place the snuffer lid on top and it will put the fire out for you, safe and sound. It even saves the wood for your future use. No messy water, steam and ashes to deal with.

BEAUTY
Stunning, handsome appearance and low maintenance good looks
Your Legacy fire pit will be a great PREMIUM SITE FIRE PIT. Choose your own blocks, rocks or flagstone to match your taste - surround this system as you please. With the snuffer lid in place, you'll keep snow, rain and debris out of the fire pit with ease.


SIMPLICITY
Attach the handle, put the pieces in place and your good to go
Once you've selected and stacked your blocks in a 30'' surround, just place the ring in the center and the rest is easy. You'll experience the simple beauty and warmth of the backyard fire in no time. Gather well and gather often!
NEW! FREE DELIVERY INCLUDED IN PRICE!