16' Lockless MONSTER- Sold in cartons of 8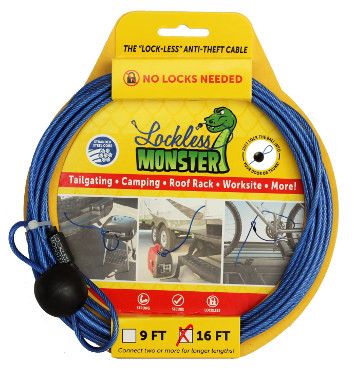 16' Lockless MONSTER- Sold in cartons of 8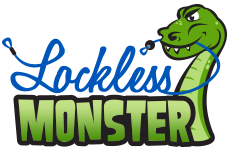 DEFEATS THE CASUAL THIEF
NO LOCKS NEEDED
CAMPING?
Leaving the campsite for a hike? Lock up your generator, grill and those expensive chairs from the mail order catalog. You can even loop it all together at once and lock the ball-end into your camper door or storage doors. 16 foot Lockless Monster recommended. Connect one or more for even longer lengths and secure the whole campsite!
It defeats the casual thief and cannot be cut with simple hand tools like a pocket knife or multi-tool. The Lockless Monster is always ready to go – no keys to lose and no combinations to forget.
·         3/32″ stranded steel cable core, 7 x 7 aircraft cable. PVC coated.
·         MADE IN THE USA
How To Use: Simply loop the cable around the item that you wish to protect from theft and lock the ball-end into your door or trunk. It couldn't be easier!
PART                        DESCRITION                          COST          PER CARTON     SELL PRICE
 #LM-1016    16' Lockless Monster 8/ctn.             $10.98                 $87.84         $17.98-$19.98